With hundreds of millions of tweets sent per day, it can be easy for your brand's Twitter marketing to get lost in the noise.
Twitter ads can help you get your message in front of the users who are most likely to be interested in your products, and your brand. Twitter's own data shows that ad engagements increased 69 percent over the last year, with a 28 percent drop in cost per ad engagement.
Twitter is a great marketing channel for driving traffic and generating leads. In fact, 63% of Twitter users follow small businesses — it's no wonder that companies can see actual growth from this platform.
If you're not yet using Twitter for business purposes, or want to get better at it, keep reading. You'll learn how you can use Twitter ad campaigns to reach the audiences you care about.
Do you already have a Twitter account? If so, you know how to use its free functions: tweeting, following and customizing your profile. But because businesses are meant to grow, so too is your social media presence.
To expand your reach and grow your follower list on Twitter, consider supplementing your organic efforts with the paid promotional opportunities Twitter has built right into the platform. Using Twitter Ads is an easy way to get your tweets in front of the audiences that don't yet follow you, which is particularly useful for generating new leads for your business.
And you don't necessarily have to spend a fortune on it, either — Twitter ads can be effective even on a relatively small budget.
Twitter Ad Account Structure:
Types of Twitter ads
Promoted tweets
Promoted tweets are simply tweets that an advertiser pays to display to people who are not already following them on Twitter. Like regular tweets, they can be retweeted, liked, and so on. They look just like regular tweets, too, except that they have a label that says "Promoted."
Promoted Accounts
Promoted Accounts (also known as Followers campaigns) allow you to promote your Twitter account to targeted Twitter users who don't yet follow you but might find your content interesting.
Promoted Accounts are displayed in potential followers' timelines, as well as in the Who to Follow suggestions and search results. They include a Follow button and are clearly identified as Promoted.
Promoted Trends
Trending topics on Twitter are the most talked about subjects on the social network, appearing on users' timelines, on the Explore tab, and on the Twitter app. Promoted Trends allow you to promote a hashtag at the top of that list.
Automated ads: Twitter Promote Mode
We'll spend most of this guide talking about building your own customized Twitter campaigns based on specific business goals. However, there is another option. If you're new to social media advertising, you're not sure how much you can afford to spend, or you have a very small team with limited time, you might want to consider Twitter Promote Mode.
How to Advertise on Twitter:
Log on to ads.twitter.com
Click on create an ad and then click on create a campaign & choose your required objective.
Awareness: You want the maximum number of people to see your Promoted tweet. You're billed per 1,000 impressions.
Tweet engagements: You want to maximize engagement with your Promoted tweets. You're billed per engagement for all engagement types—retweets replies, and so on—but only on the initial engagement with each user.
Followers: You want to build your Twitter audience. You're billed for each new follower, but not for other engagements, like retweets and likes.
Website clicks or conversions: You want people to go to your website and take action. You're billed per click.
App installs: You want people to install your app. You're billed for each app install.
App re-engagements: You want people who already have your app to open and use it. You're billed for each app click.
Promoted video views: You want people to watch your videos or GIFs. You're billed for each video view.
In-stream video views (pre-roll): You want to run a short video ad at the start of videos from Twitter's premium content partners. You're billed for each video view.
A choice of Twitter campaign objectives is the first thing you'll see when you open Twitter Ads Manager.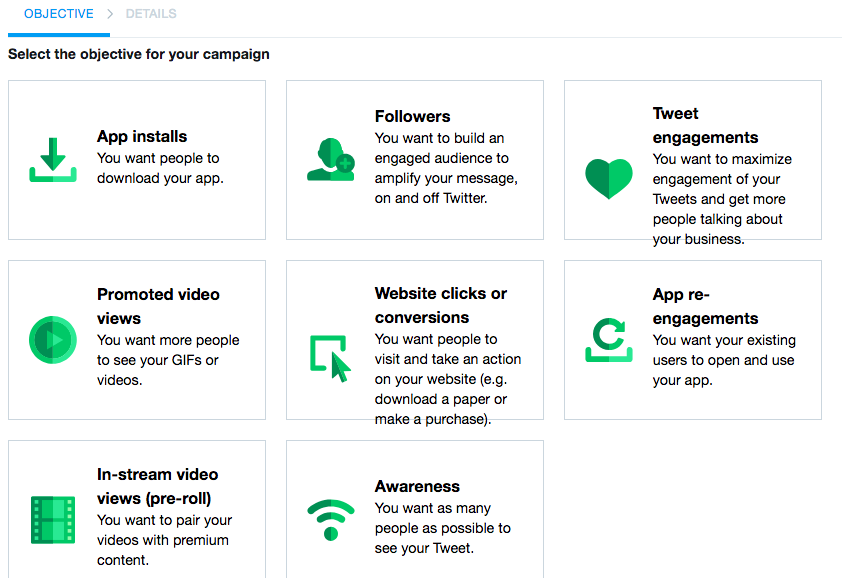 Now, set up Ad group details.
Set up your ad group and bidding
Now you're on the Create your ad group page. What's an ad group? It's a sub-category of your campaign. For your first Twitter ads campaign, you'll probably want to stick to one ad group. But as you get more comfortable with Twitter ads, you can split up your campaign to target different audiences, use different creative, or test different budgets and timing.
If you want to control the bid amounts yourself, the interface will also show you suggested bids based on what others are paying.

Add a name to the Ad group, give the start & end date, and add how much total budget you want to add to the ad. Set up the Optimization Preference.
Choose your creative and ad placement
Twitter will show you a list of your existing tweets that you can choose to promote. If you prefer, you can choose to create a new tweet specifically for your ad.
On the right side of the screen, you can choose your ad placement.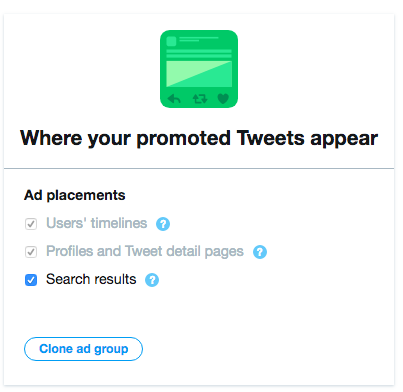 Once you've made your selection, click Next.
Target your audience
Twitter offers a number of targeting options to help you choose the right audience for your ad and maximize your budget.
You'll start with demographic targeting, defining your audience by gender, age, location, language, and technology.
If you already have a campaign then go for Tailored Audience if not just ignore that option.
Now, after creating the Campaign & Ad Group click on Creatives & select Twitter Cards.
Now, use the Twitter cards by clicking on Creatives & then create your ad with an image.
After that make the payment by providing your bank details.
Launch your campaign
Finally, review all the options you've selected, and click Launch campaign to launch your ad.
Your Ad will be Live now!!!
This is about Twitter ads. You can create 'n' no. of campaigns & can target your audiences.
If you have any further doubts feel free to watch our Youtube Video & do Subscribe to our Youtube Channel :